About Dr. Reddy's
At Dr. Reddy's, we believe that – Good health, can't wait. 'Good Health' is always our goal, and 'Can't wait' reflects our commitment to act with speed.
Who we are
Dr. Reddy's Laboratories Ltd. ('Dr. Reddys') is an integrated global pharmaceutical enterprise, committed to providing affordable and innovative medicines for healthier lives. Strongly driven by a patient centric view, our products and services across the pharmaceutical value chain, offer solutions for unmet medical needs and better access to existing medicines.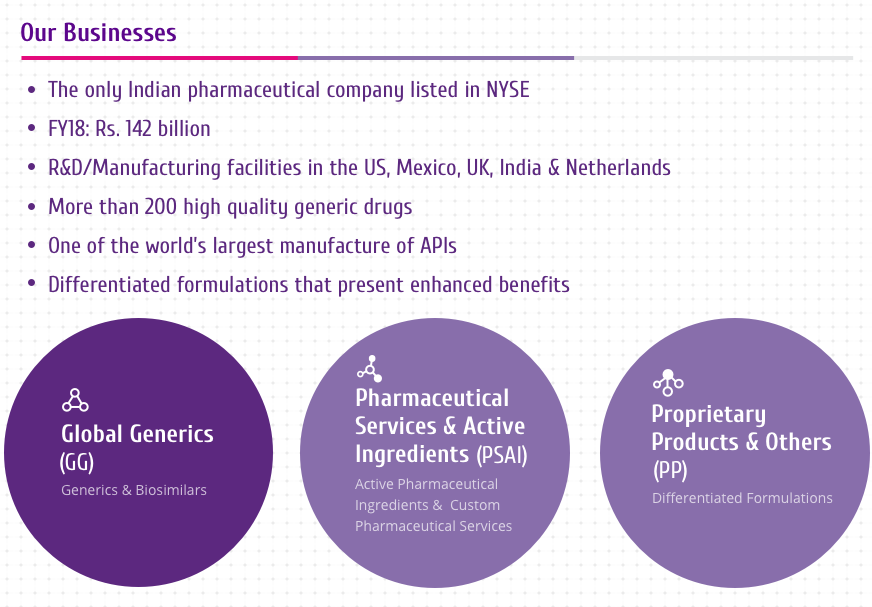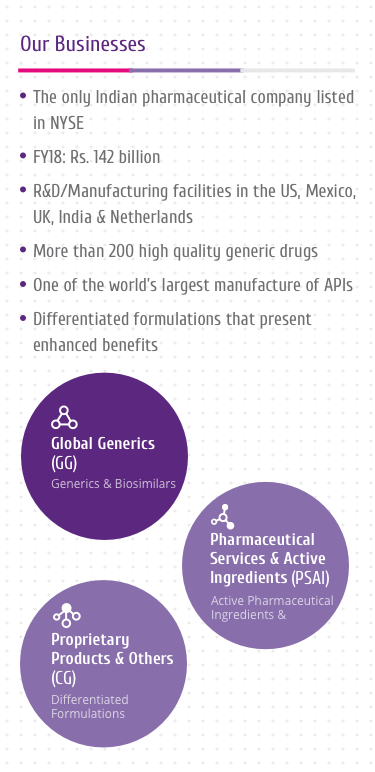 What we believe in
Driven by our core guiding principles – Empathy and Dynamism, we strive to do all within our power to make good health available, at all time…
Abiding by our belief, we are constantly driven by these five promises (Figure 2):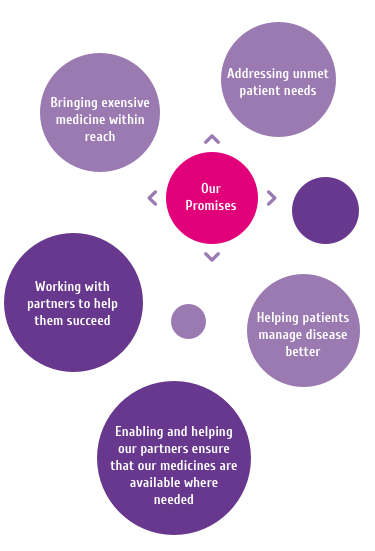 At Dr. Reddy's, we do not see ourselves as a mere manufacturer of medicines. The concept of care and its proper delivery is as important to us as the quality of our drugs. We think beyond the molecule to ensure that we are empathetic to our patient's needs by experiencing their issues first hand.
Our global presence
Headquartered in Hyderabad, Dr. Reddy's operates in markets across the globe in a commercial presence in over 56 countries. Our major markets include USA, India, Russia, CIS countries and Europe[1].
Even as our medicines continue to ensure good health to millions of people around the world every day, we endeavor unceasingly to increase their access to many more. These efforts help us stay close to patients, doctors, healthcare providers and business partners, wherever they are.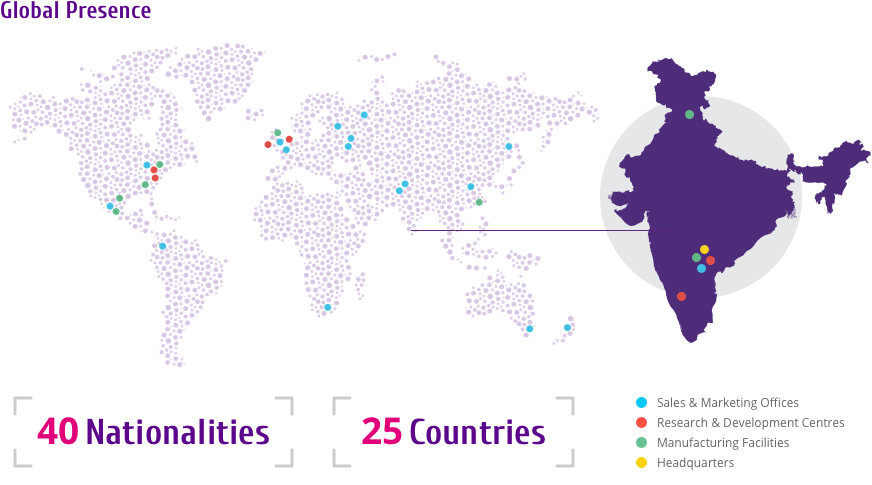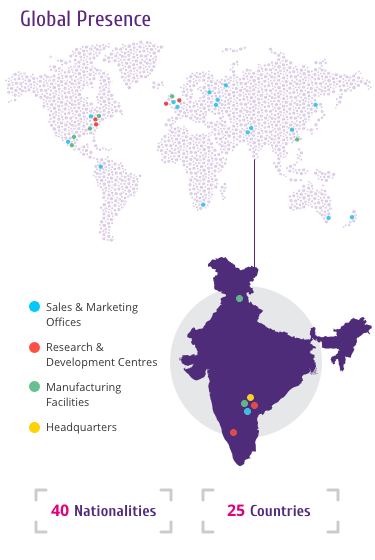 Biologics at Dr. Reddy's
The biologics business unit at Dr. Reddy's is a sub-segment within our Global Generics (GG) business dedicated towards biosimilar development.
Our biosimilars portfolio within the biologics business unit, comprises drugs which are equally effective, safe and more affordable alternatives to their reference products. Our product development capabilities and commercial reach have made us one of the global leaders in this rapidly growing area. We have Six biologic products commercialized in various markets and an industry-leading development pipeline focusing on oncology and auto-immune diseases. With fully integrated biologics capabilities and a global presence, Dr. Reddy's Biologics business unit has current GMP-certified and accredited bacterial and large-scale mammalian cell culture manufacturing capabilities.
The biosimilar products of Dr. Reddy's which are currently in the market are RedituxTM, Grafeel®, Peg-Grafeel®, Cresp®, Hervycta®, Versavo® (Figure 4). Our biosimilar drugs are equally effective, safe and more affordable alternatives to their reference products[2].
The Biologics business at Dr. Reddy's launched its first product in 2001. Since then, four products have been launched in select markets and 2 active investigational drug (INDs) applications have been filed with The Food and Drug Administration (FDA or USFDA).
In June 2012, Dr. Reddy's entered into an alliance with Merck Serono, a division of Merck KGaA, Darmstadt, Germany (the biosimilar unit of Merck was acquired by Fresenius Kabi in 2017). The partnership is co-developing a portfolio of biosimilar medicines in oncology for global commercialization.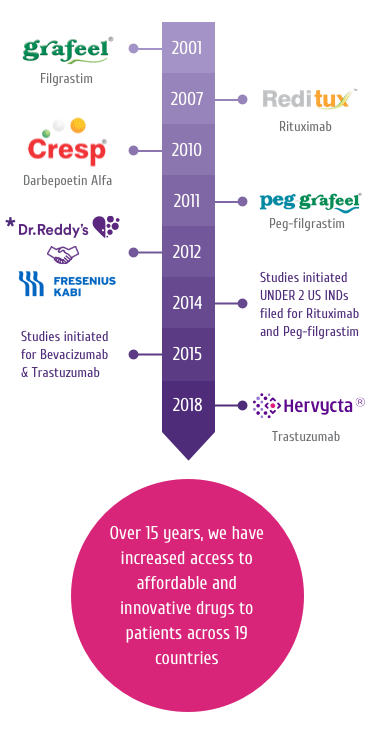 Abbreviations
API : Active pharmaceutical ingredient
CPS : Custom pharmaceutical services
GG : Global Generics
GMP : Good manufacturing practice
OTC : Over-the-counter
PSAI : Pharmaceutical Services and Active Ingredients
PP : Proprietary products
References
Dr. Reddy's Laboratories Ltd Annual Report (2018)
Dr. Reddy's Laboratories Ltd. Data on file (2018). Unpublished